Well, it's been a busy summer of not playing nearly as much Old School as I'd have liked, but it was enjoyable nonetheless. Sometimes it's nice to be away from our hobbies so that we can truly appreciate them. It also helps that I spent most of my summer at our Tiny Cabin out of the city with my wife and kiddos enjoying my time off from working.
Anyhow, that's not what I'm here to write about! The other night, I did get a chance to play some cards with my regular playgroup, which is where I learned about an amazing combo. We have one regular in particular who has gone all in on getting Power and _good_ cards for the format which makes it exciting to play against him. He's been known to run Powered Winds of Dreams combo, so that's what I was expecting. Instead, I was greeted by a Troll Disco deck. My Gw Tribal Wolf deck was able to get under it in game one, but he was able to make up for that in game two with a ton of land destruction and generally controlling the board. I found that once he was able to land a 3 Toughness creature or two, there was little I could really do.
That lead us to game three wherein I learned a valuable lesson. Guardian Beast plus Chaos Orb is very oppressive! I had no idea that Orb would be reusable every turn. Needless to say, it was only a few turns of this before I had no board state left to speak of, and he was able to do me in with creature damage.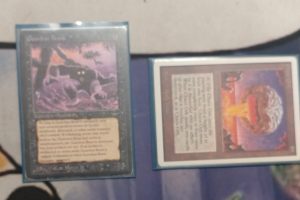 Let's have a look at the interaction between these two cards. Guardian Beast's rules are:
As long as Guardian Beast is untapped, noncreature artifacts you control can't be enchanted,
they have indestructible, and other players can't gain control of them.
This effect doesn't remove Auras already attached to those artifacts.
and of course, Chaos Orb:
1, Tap: Choose a nontoken permanent on the battlefield.
If Chaos Orb is on the battlefield, flip Chaos Orb onto the battlefield
from a height of at least one foot.
If Chaos Orb turns over completely at least once during the flip,
and lands resting on the chosen permanent, destroy that permanent.
Then destroy Chaos Orb.
If Chaos Orb were a modern day card, it would probably involve sacrificing it as a part of it's activation cost, but since it does, it destroys itself, and Beast makes it indestructible, instead after the flip, it returns to the owner's control tapped.  Meaning this combo can only be used once per turn, but even that is downright cruel.
After this game, he and I were discussing it, and he sent me this link to a post on Wak-Wak about an entire deck built around this combo.  Lucky for me, he only has one Beast.