Last night we had our usual Monday Meetup, and it did not fail to be a wonderful evening.  When I first arrived, there were already 4 people playing, a fifth watching, myself, and before we knew it there were around 14 of us chatting, slinging spells, checking out binders, and having fun.  I was a touch worried as one of our usual tables, a four top, was occupied by people playing Cards Against Humanity, which although fun, isn't Magic.  Lucky for us, they had to leave about 30 minutes after we arrived, so we got settled in to play.
I've been pondering what I'd like to play at The Winter Blast in March, so I decided to brew up something that's full of cards I like.  Generally speaking, cards I like tend to be lands, and in particular, I've always loved Urza's lands and Desert, so I decided to go mono-brown and see how it goes.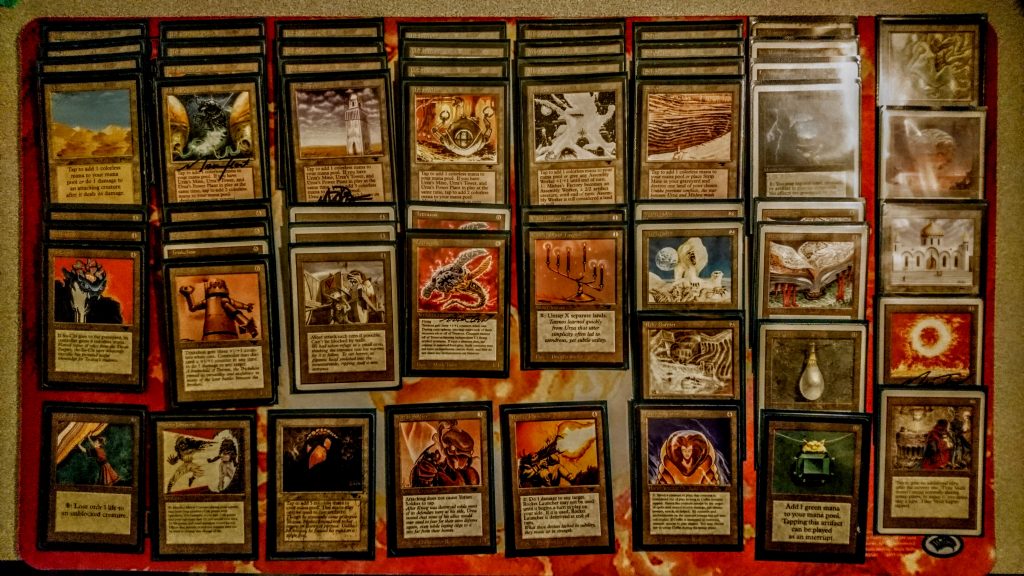 Overall, the deck does a lot of fun things, but it certainly isn't a competitive winner. I found the Winter Orbs generally hurt me more than my opponent so were often dead in had.  I initially had a City in a Bottle mainboard, but casting it and killing my own Desert bummed me out, so I swapped it for a Relic Barrier.  This proved pretty solid as I used it to control opponent's moxen and Sol Rings throughout the night.  Some highlights of it were:
Rocket Launcher for lethal
Turn 1 Juggernaut taking someone down to 5 before they could respond
Desert to hold back hordes of Lions
Getting 4 Deserts on board in a single game!
Drawing into natural Tron two or three times
Only 6 cards are outside the Swedish B&R
I, of course, didn't get any pictures of my games as I was too busy playing and talking.  We had 4 newcomers who I'm fairly certain will be regulars, and I made sure to promote The Winter Blast tournament with everyone so that we can get more people registered. I did however get a picture of this while it was happening: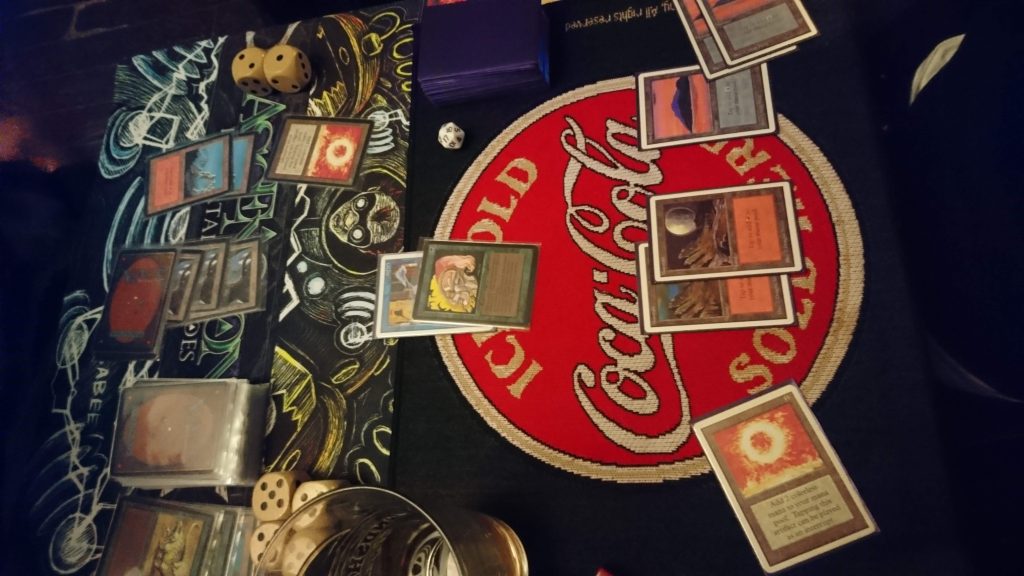 On the left is a 60 card Alpha deck, in penny sleeves, that was beating up on the UR deck w/ that Elf and causing so much frustration that the UR player took Control of it!  The Alpha player proceeded to top deck another Elf, just to add insult to injury.  I can't wait until January (my remaining 6 or so cards are waiting for me in Ohio, where I'm visiting over the holidays) to play some Alpha 40 against this deck.
We also briefly discussed what to do about our next meetup, which would be on 17 Dec and initially said to cancel it and restart in the new year, but upon looking at schedules and such, we realized that it's fine, so it's business as usual for the next meetup.