It's been a tough time for our heroes here in Toronto since we lost our usual meetup location last month. We're fortunate in that the community is strong and supportive so despite lacking our Safe Haven, we've still managed to find locations to duel at, albeit while feeling stranded.
We've done our best to enumerate our needs so that we can quickly assess possible homes without necessarily having to visit them all. The list is basically:
Able to accommodate 15 players
Has tables that are stable and large enough for 2 playmats
Open Mondays until at least midnight
Is transit accessible
Is vaguely on the west side of downtown Toronto
Food and drinks are easily available
I don't feel like any of these are really asking for too much, but it's surprisingly difficult. Toronto is a huge, expensive city, meaning that finding a place that has that many vacant tables is a challenge. Additionally, a lot of places are closed or close early on Mondays. Personally, closing at midnight is a bonus, in my opinion, as I'll easily stay out until the venue closes, and if that's at 2am, then I'm not getting any sleep for Tuesday. But that's just me.
Our first venture outside of the now defunct Bar With No Name was two weeks back at a local bar called Cider House on Roncy. It's a small place with good tables, bad lighting, ok chairs, and a decent location. They seemed pretty stoked to have the 9 or so of us show up and spend some money and play games. I spoke w/ the proprietor who told me that if we give her notice, she can pull tables together or arrange things for us how we'd like them, and that's a very good sign. We didn't have a good turnout that night, so it's difficult to really make a solid call on this location.
This past Meetup, we took over the rear section of our second choice, Pauper's Pub. This one had some good things going for it, primarily that it's huge and well lit, but it failed on the comfort and table size metrics. The tables are extremely narrow, so much so that only a single playmat will fit, which also means that all the legs and feet beneath the surface get pretty cozy. The other downside is that it's all booths with a fairly narrow distance between table edge and booth back, thus making many people not very comfortable to sit at. As for our reception, again we weren't at full strength, and several people didn't appear to be spending money which doesn't do much to win them over. They do have an upstairs that we could reserve, but it sounded like it costed money and/or had a minimum spend, neither of which are ideal.
Where does this leave us?
Quite honestly, I'm uncertain. Bouncing around to various locations is strenuous and seems to result in fewer people showing up; an anti-goal. We need to find a new forever home and get out of Exile, but for the immediate future, we'll probably still be bouncing around, but we have one solid thing in place. What is that, you might ask?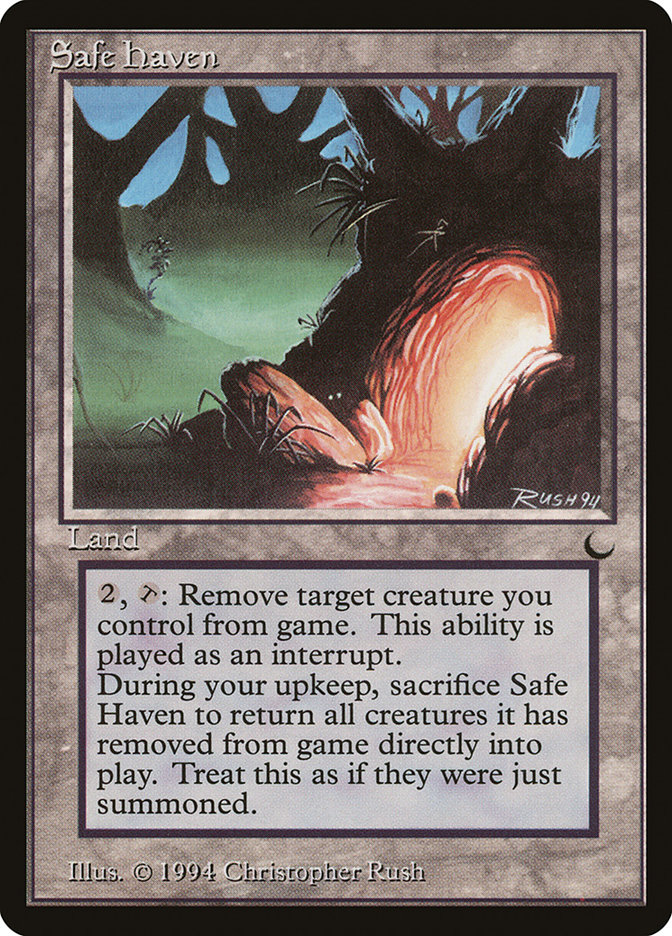 The first Wednesday of every month, we'll be playing at Toronto Collective, 389 Spadina Ave, which is a great space, owned by local player and international old school Canadian Ambassador, Shane. He's graciously offered his shop up, after 8pm, for us to do what we want with it. He's planning to have a dedicated cam table to stream or play vs non-local folks as a way to help grow the community and unify Toronto with the greater OS community. So, this Wednesday, 1 May, (May Day) will be our first regular meeting there, and we'll discuss in person what we want to do with these sessions, but it's been tossed around to have some tournaments there, or cubing, or whatever. I think that this is a great opportunity to have a different variety of games from the usual casual Monday Meetups.
So, keep your eyes on this site, twitter, facebook, and we'll let you know where the Monday Meetups will be, and in the meantime, let's play some games on Wednesday.