On the fourteenth of September, 2019, fifty mages descended upon a Polish Combatants' Hall in downtown Toronto to battle it out at the first ever Fire Ball. This was geocitiesofbrass's second tournament at this location, and we learned a lot from The Winter Blast earlier in the year, most of which we implemented. Most importantly, we made sure to get people there early, so doors were at 10:30am for all of us, meaning we had lots of helping hands right from the get go.
Charity
My original charity never responded to emails, so I opted for a different one. We donated $715 to the Native Youth Sexual Health Network, an Ontario based organization dedicated to works across issues of sexual and reproductive health, rights and justice throughout the United States and Canada. I chose this as the charity this time around because we live and play on indigenous land, and I believe that giving back is important.
Face to Face Toronto raised an additional $1320, which they combined with the other half of the door/raffles donations (another $715) to bring our grand donation total to $2035! This is about $600 more than we raised from The Winter Blast, despite having more expenses this time around, in the form of the larger space, and that we paid for the pizza this time. The Face to Face portion is being donated to Youth Assisting Youth, a local Big Siblings style organization that Kelly has rapport with.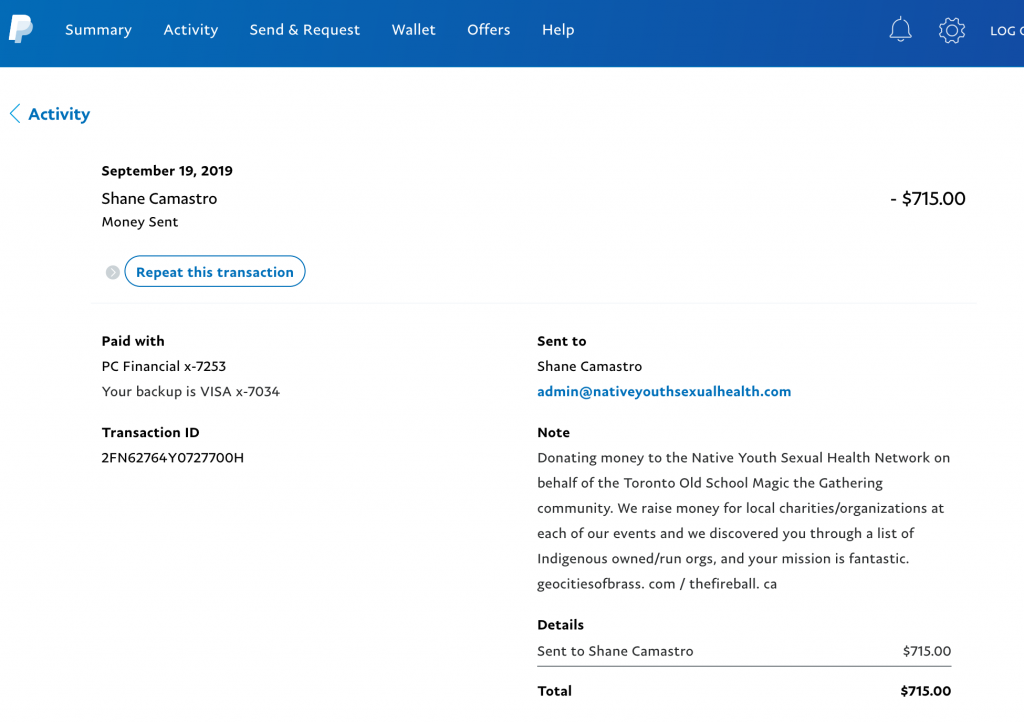 Events
The Chaos Orb flip contest was once again won by Toronto regular Joel, who had to buy in five times before he was able to finally hit 29 in a row and get to take home a gorgeously patina'd City of Brass, courtesy of Face to Face Toronto. We had a special Orb flipping contest this time as well, a 6×9 Orb being flipped from waist height onto an oversized Juzam. Let me tell you, that was difficult! The impromptu rules we came up with were that you flipped until you missed three, and the person with the most wins the Juzam. Well, that ended up being me, with a whopping three hits! Actually, I tied with Owen, but he already had a Juzam, so he gave me the win.
Two other prizes we had were for the person who traveled the farthest, and the spiciest deck. The former went to Dominic, a member of The Lords of the Pit who came all the way up from NYC! He received a very well loved FBB French Serra Angel who escaped a bulk bin in France and flew to Toronto. Spiciest deck went to a gorgeous Goblin deck, piloted by Mike Wood, largely because the judges were excited to see goblins, earning him an Elder Land Wurm, of course.
The final fun prizes, completely unrelated to the game itself were awards for Goblin King and Sorceress Queen of the Ball. Since we had a huge turnout of folks dressed up, I didn't feel like I could make an unbiased choice for the two people who deserve these awards, so I turned to Beata, the wonderful Polish woman who handles the bar and takes good care of us, to make the decision. For the Queen, it was easy, as Bev was dressed to the nines, but there were a lot of well dressed men. For Beata, it all came down to the man's shoes, and thus Michael Hartog, the Goblin King was chosen, much to the ire of some, since the winner's shoes were actually plastic, but looked nice. These alters were graciously donated by Toronto's own Dave Lee.
There was a lot of scheduling difficulty with getting vendors in for this one, as Face to face was hosting their own event, and Kelly was on dad duty for the weekend, and none of the other shops we spoke with were very interested. Regardless, Kelly did manage to bring out a booth for a couple of hours and had some smoking hot deals in the form of a silent auction. I saw a Juzam, Library of Alexandria, and a bunch of CE & Unlimited Power, plus many duals being moved at 2018 prices. He also brought a vending machine that was filled with old school cards and for a mere toonie (2 dollar coin for non-Canadians) you got a sweet card. Loads of ANT Tron lands, some Flying Men, Unlimited uncommons, and lots of Legends cards came out of there.
The raffles for this event ended being very skewed towards Anson Maddocks art, which is awesome because he did so many iconic pieces, but I've heard that it was a bit too much, so we'll work harder next time to source a more varied selection of art. Regardless, the auction went over quite well, and had many prints from Maddocks, Melissa Benson, Ed Beard Jr, a hand painted Time Walk from Amy Weber, a Quebecois Moat playmat, and a bunch of awesome proxies by EricMTG. One particular new comer, Jacob, won six raffles, and it was his first old school event, so needless to say, I think we have him hooked.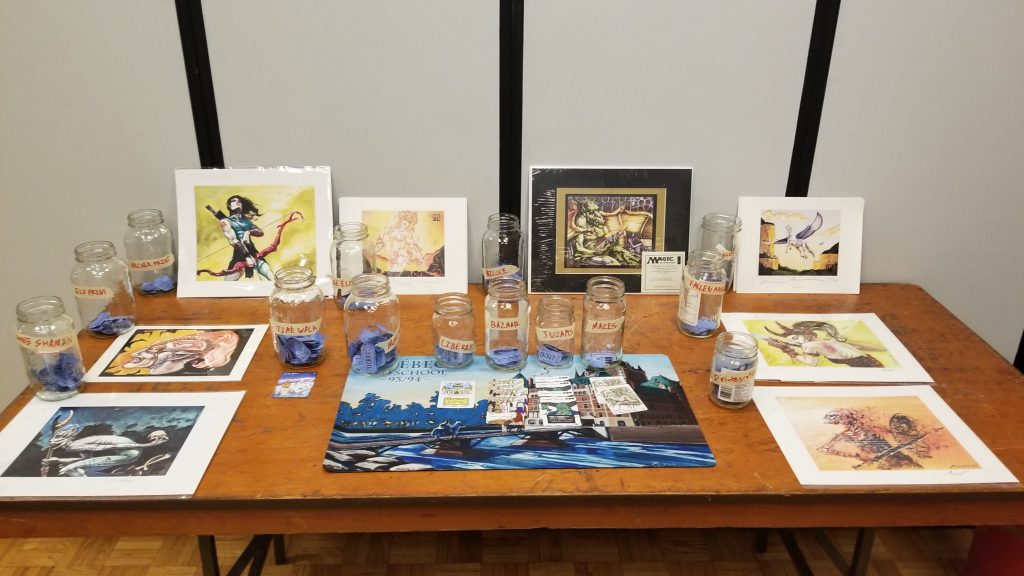 Noon came around and we got down to business with round one, and it wasn't long before we had turn zero Channel Fireball for lethal! Since there was a prize for the largest fireball of the day, players were very excited to report their fireball totals between rounds. By round four, Jeff Rowbottom had an infinite Power Monolith backed Fireball go off, so that sealed the deal on that contest, winning him a Golden Ticket; a gold border City of Brass that grants free entry into our next event.
The tournament itself was six rounds of straight Swiss, which I totally didn't clarify at the beginning, leading to some confusion later on (sorry!), and flowed extremely well. Fifty minutes was a bit tight at first as people settled in and got more familiar with their decks and whatnot, but by round three, things were in full swing. Pizza was ordered and consumed, the bar was kept busy, deals happened between rounds, and only a couple of judge calls (which were basically told to ask your neighbors).
Top 8
Trying something new for this one, where we are showing ideal hands, or a highlight of what the deck does, in lieu of full deck pics. Huge congratulations to Chris Anderson for taking it all down with "The Boring Old Deck" as he submitted, and to all the players who competed. Y'all are awesome.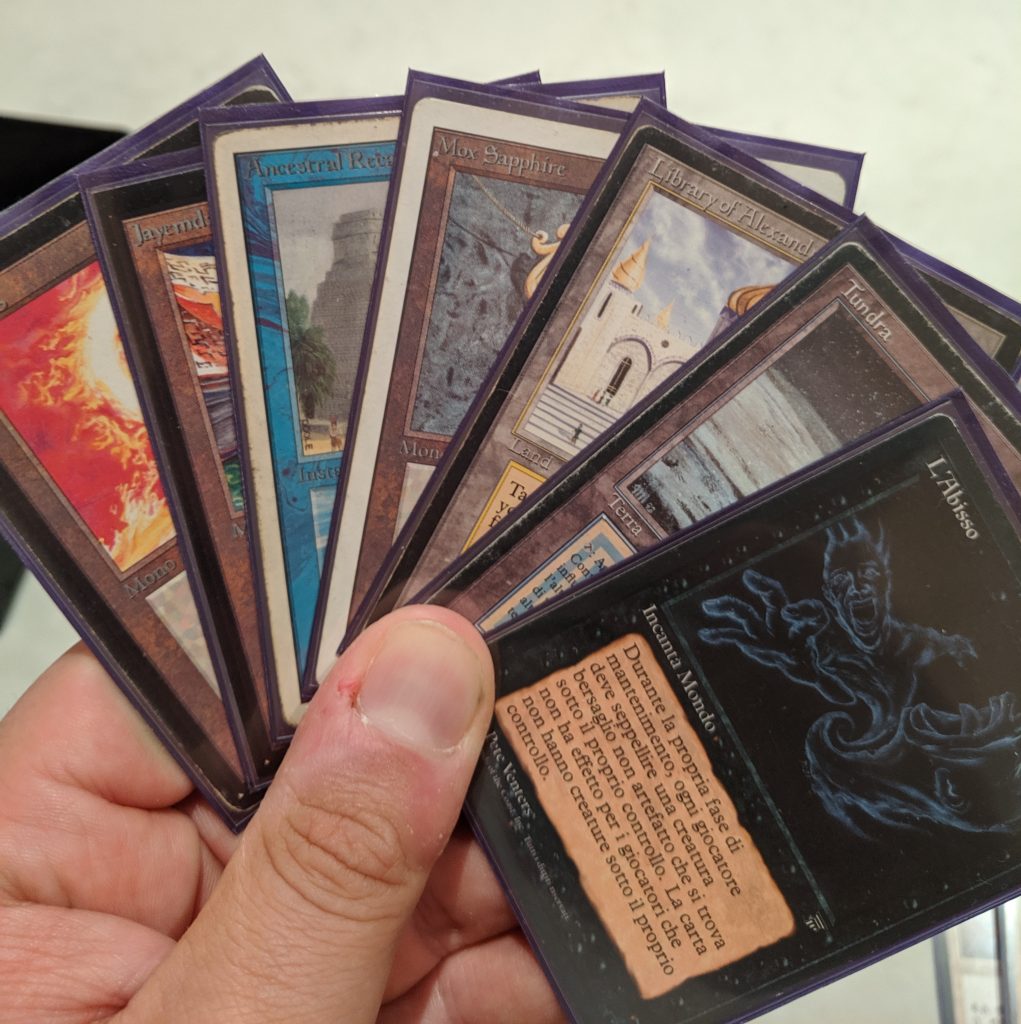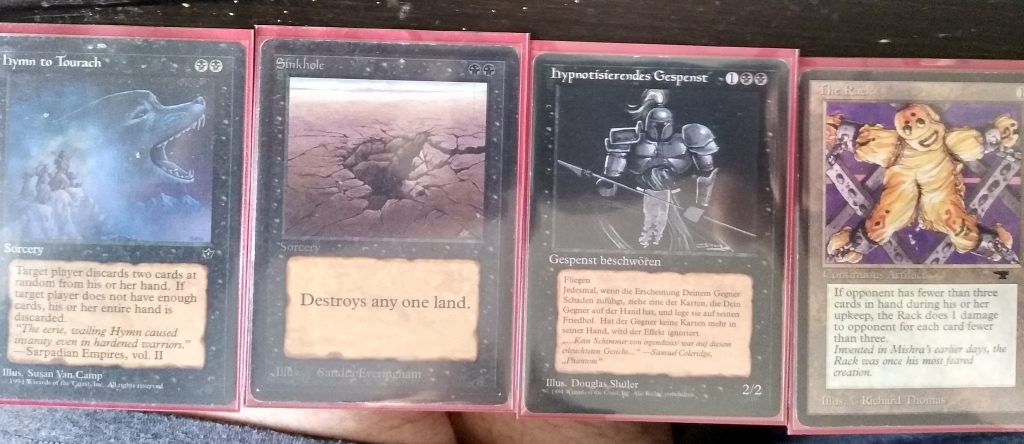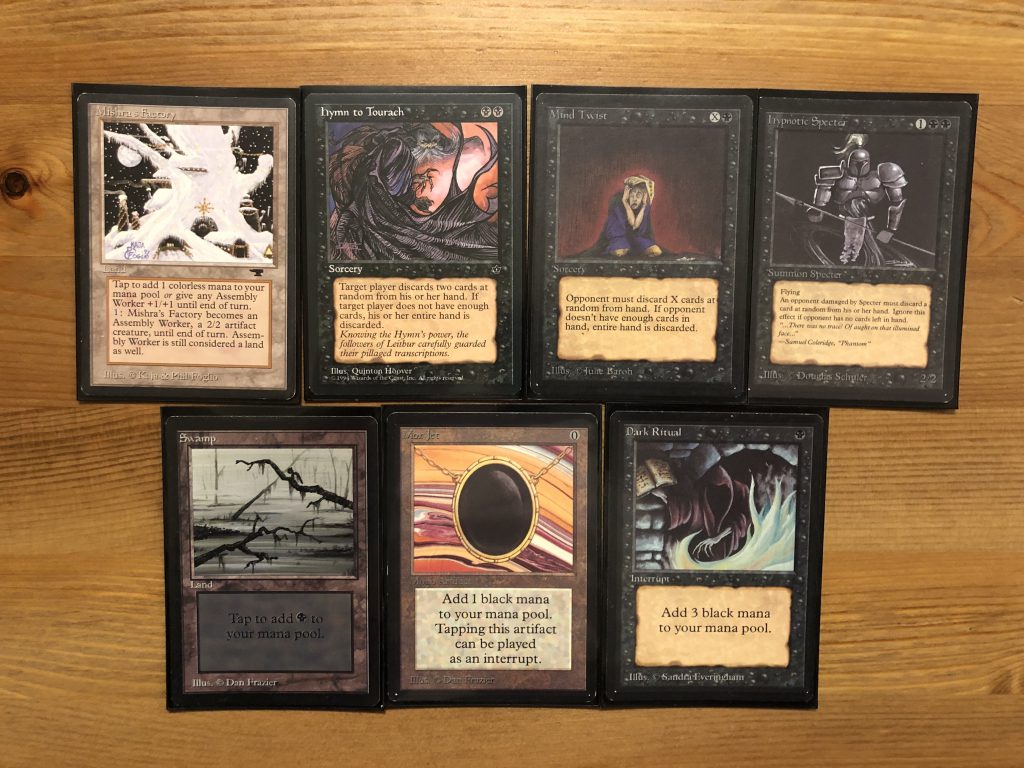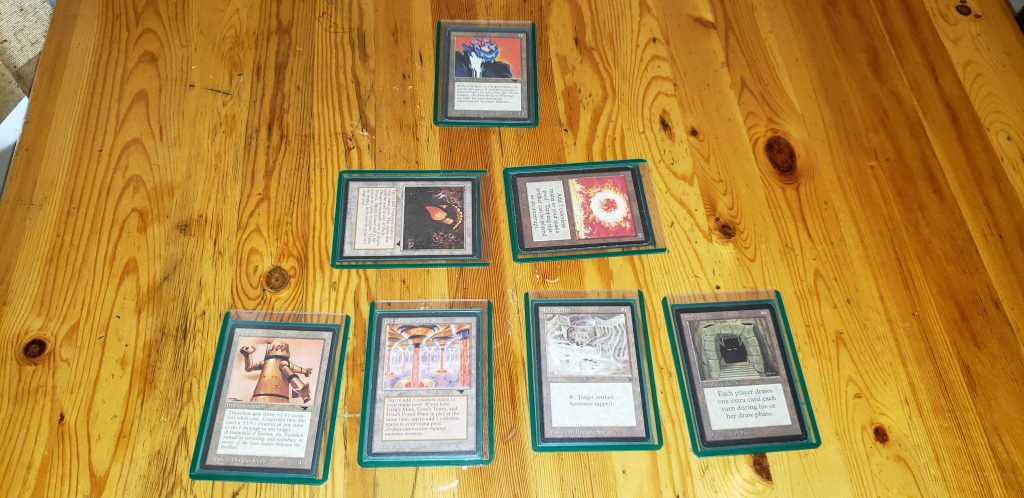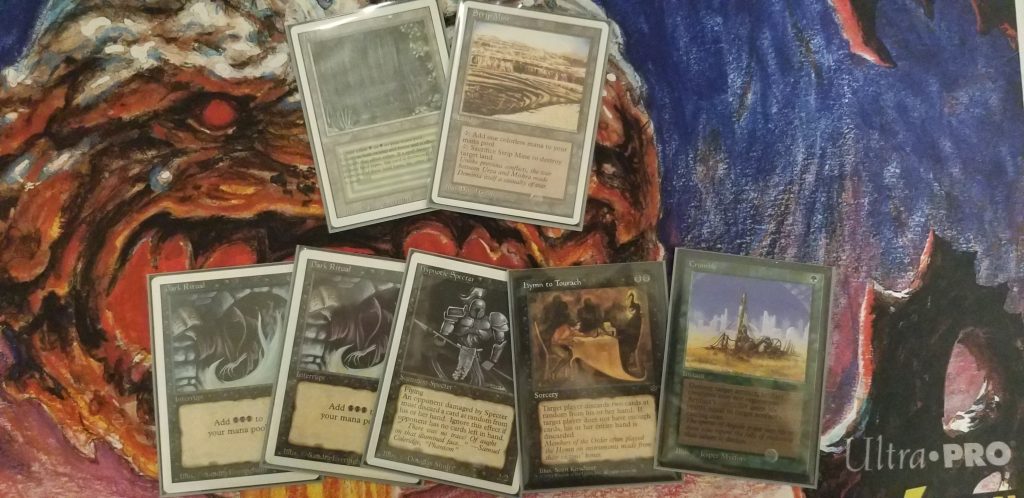 Gory Details
and full deck pics are in this Google Drive Folder.
Prizes
Our prizes were all donated from members of the community, of course, and in my honest opinion, did not disappoint! We'd had some feedback from The Winter Blast that prizes for Top X would be appreciated, and so, keeping on brand with the event, we had four beta fireballs donated and then altered by our own John Little (who also did our rad CoB & Bird Maiden banner), as well as a City of Brass for first place. Additionally we had a stack of 50 unlimited basics, ten of each, to go to the highest placing deck with no dual lands, and a set of Power proxies, again from EricMTG for the highest placing unpowered deck. The Island there is a Mark Poole artist proof, signed on the back awarded randomly, and the mat is a John Avon sketch of Cloud Dragon, given to the highest placing mage without a mat.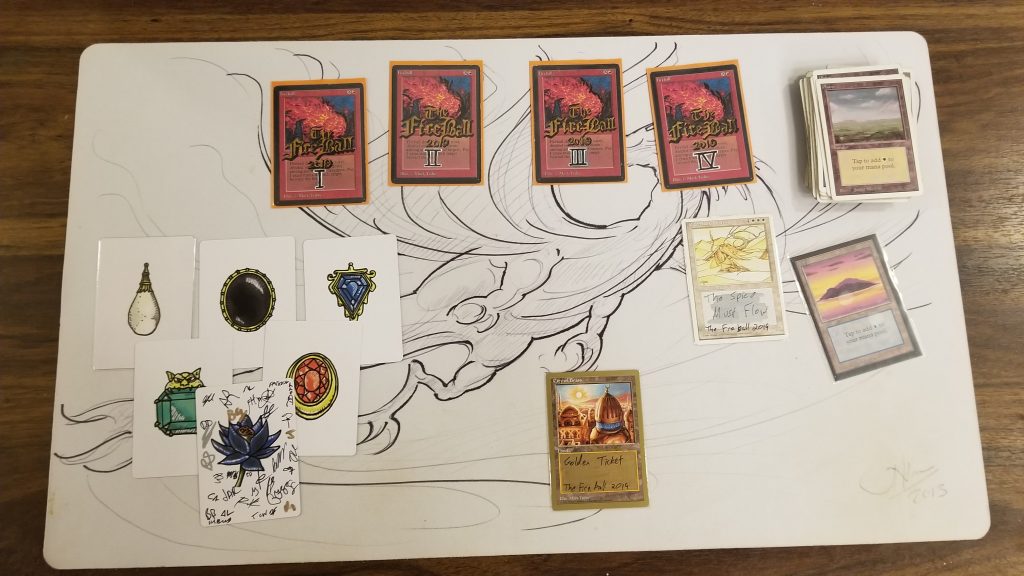 There is also the player's pool of cards that we all scribbled on. While the event was going on, I was making little three card packs that consisted of an old school playable in back, a keepsake unlimited fireball in the middle, and a players pool card in front. The order of getting these was random, and each player got to choose which scribbled card they liked and then had surprises waiting for them in the sleeve.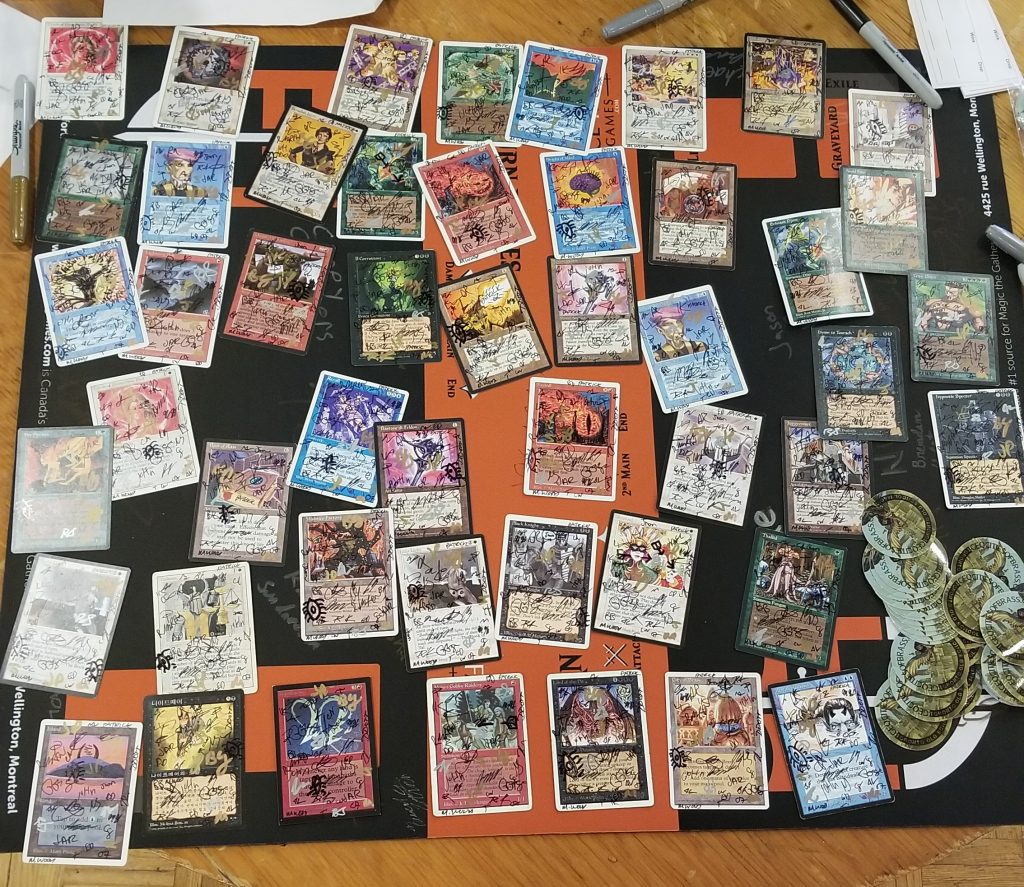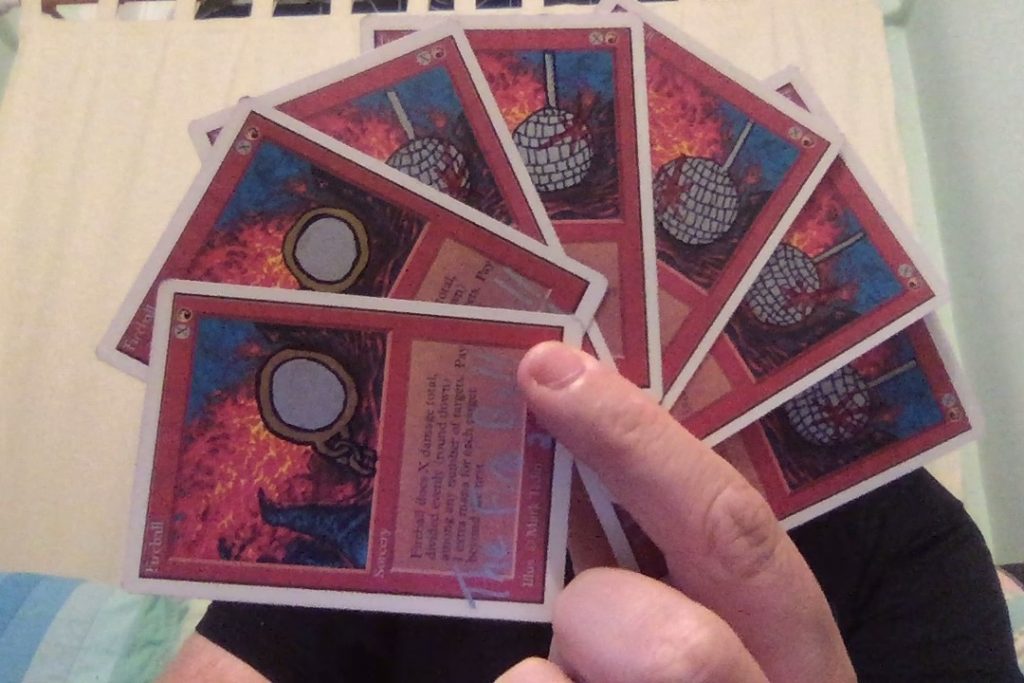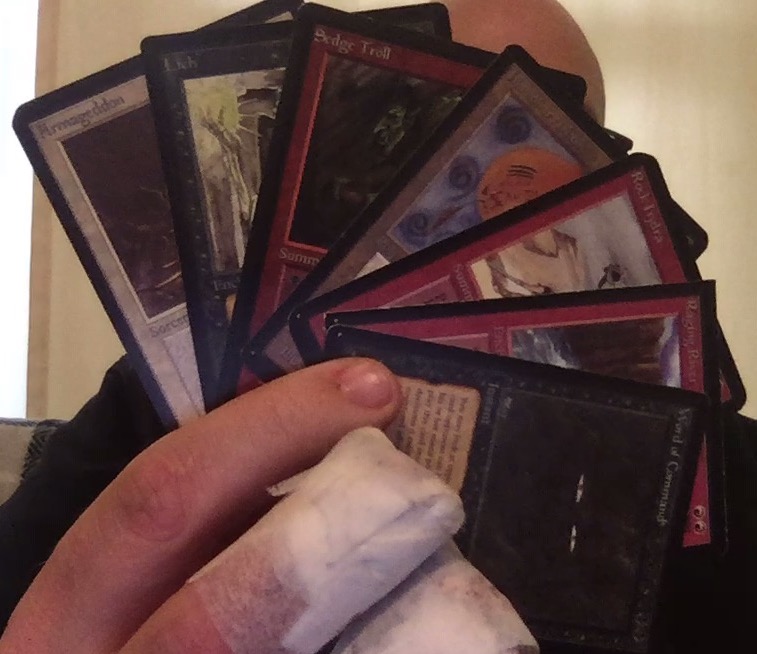 Thanks!
There is no way that events like this would be possible without tremendous support from the community. If you would like to see something different, it's in our hands to make it happen. Some folks really stepped in to help make Saturday an amazing day, and credit is deserved, in no particular order.