A feature that I absolutely love is seeing all of the mail day posts on various social media outlets. Not only does it show off cool cards, but it also gives insight into the posters' ideas, plans, and collections. It's easy to get caught up in all of the deck pics with full Power and a bunch of black bordered cards and be disparaged by not having those, or feeling a pressure to play those kinds of decks. The truth of most of the old school world is that there's a ton of people playing Revised, Chronicles, and 4th Edition cards and having a blast doing so. But, this post is about mail. Specifically one package that I've been anxiously awaiting for some time now.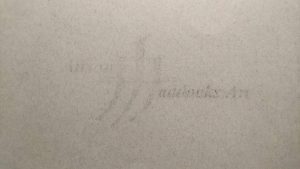 Sadly, the ink rubbed off in the envelope, but that says Anson Maddocks Art. You see, earlier in the year, I came across a fundraiser to help out a fellow Magic player, David, whom I've never met, but dude was in need of assistance, and the person who organized the fundraiser had come up with some amazing incentives to donate. Now, I'm not going to sit here and claim to be entirely altruistic, and I'm sure that loads of us see GoFundMe's for strangers all the time and scroll passed them, but this one that Kevin had organized, well, it was different. It wasn't just a GFM link on FaceBook, no, it was a story about friendships and Magic, written up on a definitively old school looking website. This spoke to me, and since I had a good job at the time, I sent over some money to these strangers and notified Kevin that I'd done so, in order to be entered into the raffle. Well, some time passed and I'd basically forgotten about it, but then I received an email from Kevin telling me that I'd won one of the raffle prizes. Not just any raffle prize though, I won the Grand Prize, the Anson Maddocks Visa for Life! Now, I'm not an art collector, and am not overly into autographs or alters, although my opinion on the former has certainly changed over time, but I was definitely excited for this. I'd entered this before this website existed and certainly before I had started planning any local tournaments.
That has now changed, what with The Winter Blast coming up in March, as well as some other opportunities in the works, so my mind has been filled with ways to ensure the events are successful, fun, and offer something for everyone. Spike players will be happy to have bragging rights of winning the tournament and getting some sweet loot out of it. We plan to reward unPowered decks and spicy decks, to help satisfy the other player types. Chaos Orb flips and another secret challenge will be ways for people to compete without having to worry about their deck/card pool/Magic Skills, so I think that activities are pretty well covered. Now that I've figured out the "what to do", it comes down to the "how to reward these things" part of planning, and since all proceeds are for charity, I want to ensure that we raise a decent amount of money. A large chunk of the entrance fee is eaten up by renting the venue, so I'm planning on the side events to have small entrance fees that hopefully will add up to a decent amount of extra for the the Red Door Family Shelter, and this mail day is giving me good ideas.
I did a little research in the old school discord to see what sorts of things folks would like to see as prizes and used that as input into my acquisitions, which should be here soon. You'll have to wait until (closer to) The Winter Blast to see them though.