The following email was sent out to all registered attendees on 14 February 2019 and is being preserved here for reference.
---
Greetings old schoolers!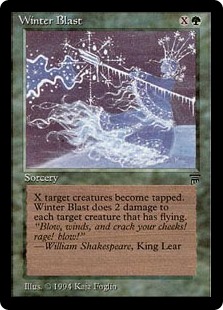 The Winter Blast is only a few weeks away and preparation is speeding up, so I wanted to take a moment to remind all attendees of the important things they need to know and remember for the tournament.
Remember to bring a prize pool card – Make sure that it's a card that is playable and/or iconic to the format and something that you would be stoked to receive. These will be signed by attendees/opponents and make beautiful souvenirs and reminders of events. I recommend reading this article https://medium.com/@paul.desilva/why-we-sign-8e3027f284b0

Please email a clear photo of your 75+ cards to 2019decklists@thewinterblast.ca by 1 March 2019 so that we'll have time to organize them and look for spice 😉
Read over our Code of Conduct. By attending, you're agreeing to live by it.
Bring $25 CAD cash the day of for entry fee.
Bring spending cash for side events and for the Face to Face Old School booth that will be on site.
If you want to donate something more to the prize pool (absolutely no obligation, but some folks have asked and donated), let me know what you want to donate and we can discuss how it should be awarded.
http://thewinterblast.ca has all the details you should need.
The tournament starts at noon, so please arrive early to sign prizes, get checked in, greet your friends, buy and trade cards, etc. We'll run 6 rounds of Swiss and crown a winner after that. If there's no clear winner, we'll go to Orb Flips or have a speed round to determine a number one. Doors should be open at 11:00am, although we might still be setting up, you are welcome to come on in.
If you can't make it, let me know as soon as you know so that I can adjust accordingly.
If you have any questions, please don't hesitate to email me, grazer@gmail.com, and I'll be sure to help out as best I can.
I'm extremely excited for this event and looking forward to seeing/meeting all of you, waxing poetic about old cards, playing some games, and having a fun day. See you in a couple weeks.
-jason
https://twitter.com/jasonious
http://geocitiesofbrass.com