Hello, Joel here with another update to the web blog reporting on the Toronto perspective of Chaos Con in Ottawa.
We had less of the usual suspects in tow from the Toronto contingent this time so Eric, Brian and myself all decided to take the quick Porter flight rather than tough it out for the 10-12 hour round trip in the car.
The island airport was fairly dead as usual, and there were absolutely no issues besides Brian and myself almost missed boarding while enjoying our terrible coffee in the lounge. Brendan took the train and stayed with a local buddy who had a Premodern deck, and I lent him a Red Green aggro deck to so he could join for Old School as well. As a bit of a surprise for us, we also met up with Raymond and new Toronto guy Josh at the event.
Since we flew straight in we were a little early and arrived at the site before doors technically opened. We walked in to a full Saturday brunch scene underway in the pub complete with high chairs and maple syrup everywhere. At first, we wondered if we were in the wrong spot. We were rescued by the hostess and redirected down to the basement. Although it was empty at the time, the vibes were much closer to the drunken magic tournament atmosphere we were anticipating.
Unfortunately, the timing of the tournament overlapped with the local Santa Claus Parade and a lot of people got stuck in traffic due to the parade route closures. Our organizer Patrick made it to the scene just about on time, and the event started shortly thereafter. Everything was smoothly run, and we made it through the entire 5 rounds of Old School and 4 rounds of Premodern without any hiccups.
The Clocktower makes their own beers and we were pleasantly surprised for the most part. There was nothing crazy interesting like we are used to seeing these days in craft breweries, but they had solid and sometimes above average offerings of the classics. I started on stout which was better than a Guinness benchmark, and stuck with that most of the day until I heard rumors that the brown and ESB were also pretty good, and so I branched out into those.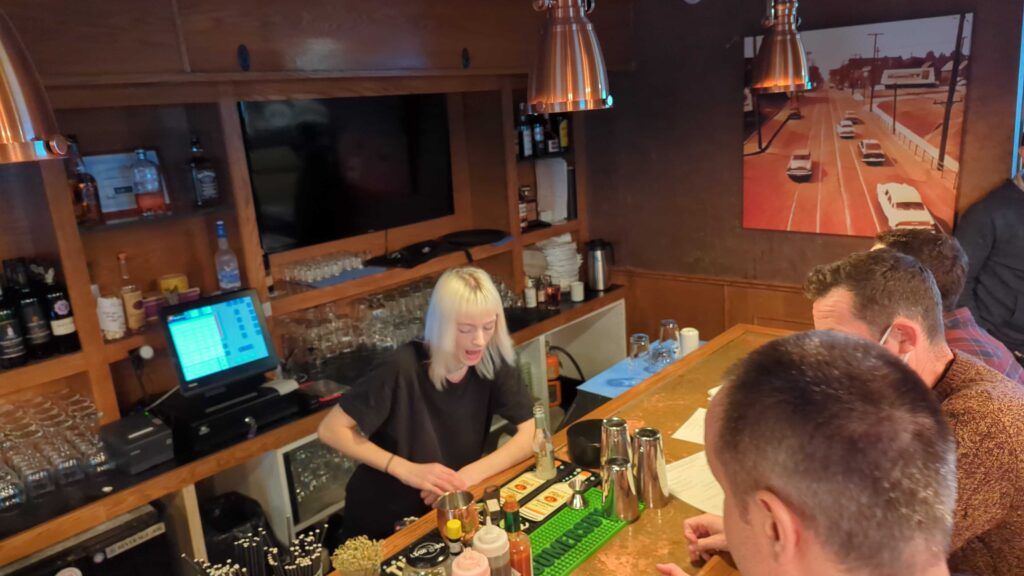 I won't get into too many details on the matches but as usual, all my opponents were pleasant and it was great to catch up with everyone. I took down Round 1 which is always a relief, but overall I did not do as well as I hoped to during Old School. I ended up on a 2-3 finish, although I was able to turn the tables during Premodern and ended up 3-1 there. That was good enough for 3rd place behind Raymond and Brian. Excellent work in Premodern, team!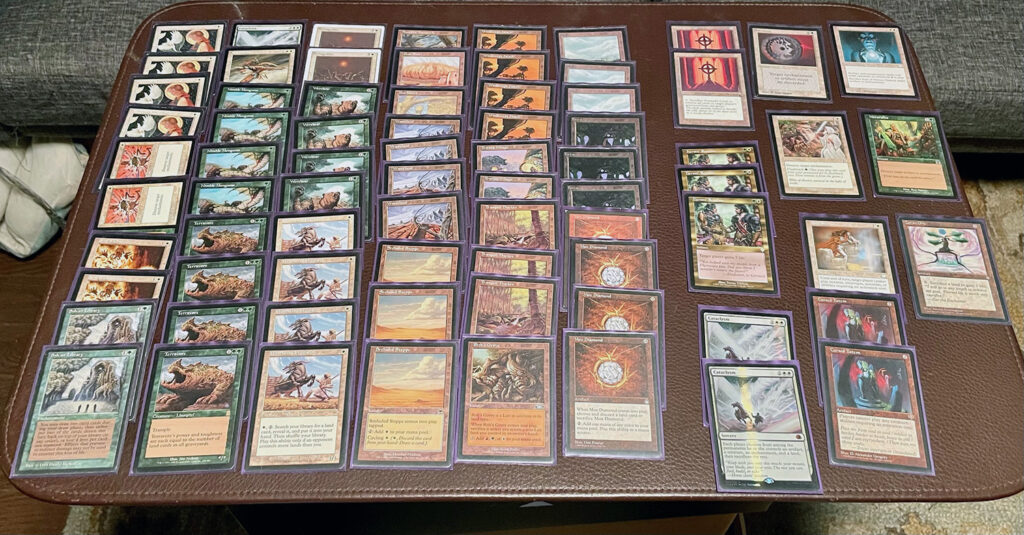 I had a grindy match against Laurence in Old School, always a pleasure although he got the best of me this time. I also had a grindy match against Toronto newcomer Josh, who I vowed vengeance against in Premodern and was luckily paired up and successful with. My one loss in Premodern was against arch-rival Raymond on Elves, as is tradition. I also had a grindy match vs Joe on the Cycling deck which I really enjoyed and eventually pulled through in the end, mostly on the back of the card Cataclysm.
The team all did well, Brian kicked ass overall and ended up finishing second in Old School with 4-1, and 1st in Premodern with a 4-0. Well played buddy!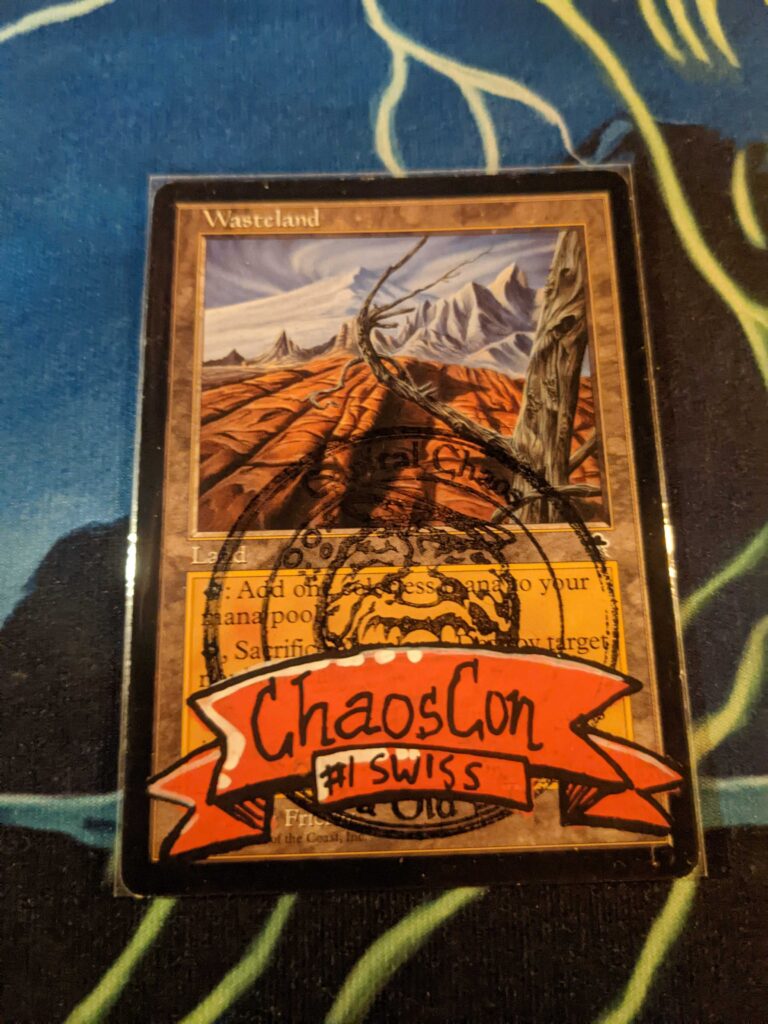 As has been the trend lately, the prizes at Chaos Con were on point. There was a well curated selection of stamped Old School playables, both for raffle and for top placement purposes. There was a silent auction containing prints along with an original High Tide repaint which Brian ended up winning.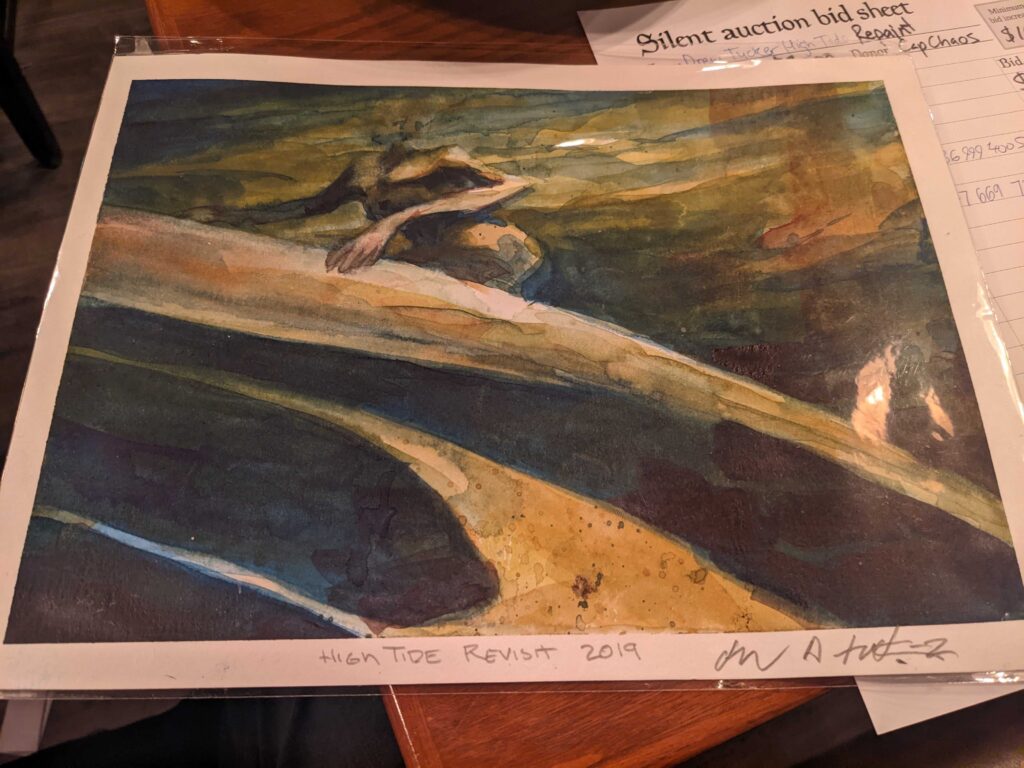 All in all, the event ended up raising 2,553.46 for the Ottawa Food Bank, which is pretty impressive for an afternoon and evening of degeneracy. Well done everyone!
After the event wrapped up, we headed over to locally recommended Gitanes Burger with Kevin and LG. The menu revolved around cocktails and smashburger style burgers. Kevin really wanted to get a giant pile of burgers since he doesn't usually have a bunch of hungry dudes in tow, and they were switching over to the night menu anyway, so Brian didn't get his wish of ordering something more substantial.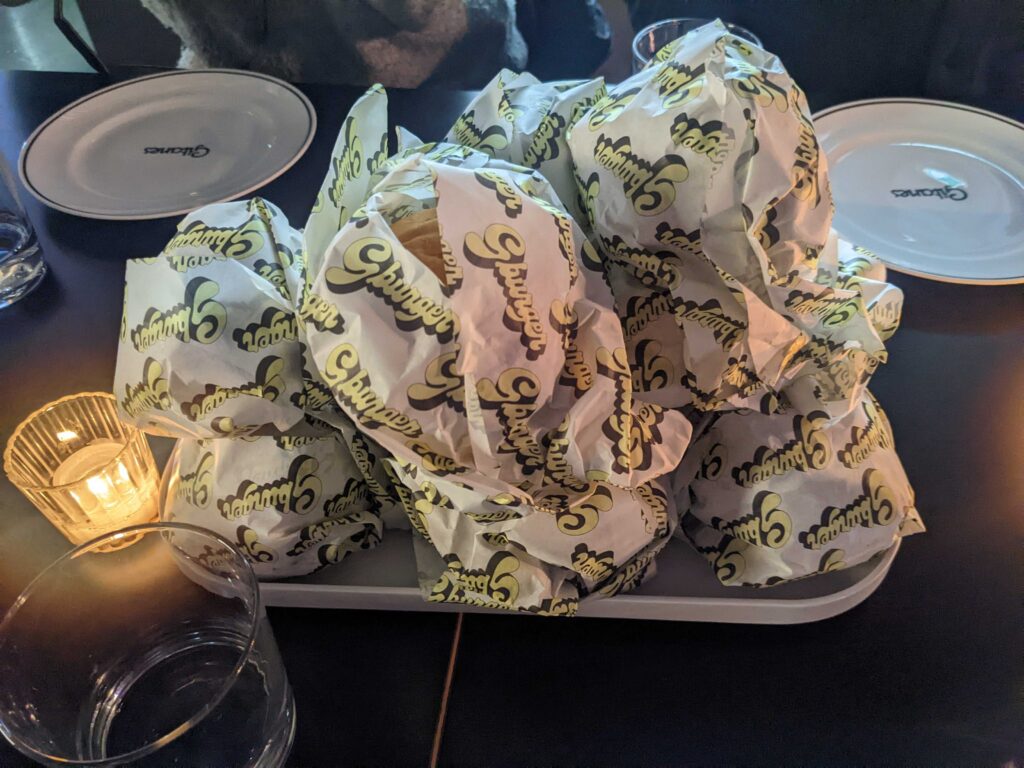 The burgers were good, maybe a little greasy and salty, but the cocktails were a really welcome change after beers all day. I had a neon pink Unicorn and a Cherry Rum & Cola, both of which were delicious. After a couple of cocktails and most of the pile of burgers, it was time to venture out to find somewhere to crash.
Our AirBnB was a townhouse which we had not checked into yet, since check-in wasn't until well after the tournament started. Our driver dropped us off somewhere in the vicinity, but the numbers of the houses around us appeared to be all way lower than the booking said. It was late and snowing, and we were drunk, so it was a little difficult to get a sense of our surroundings. Eventually we walked around the block and found it and got in without too many further problems, but it was a little nerve wracking for a moment.
Once we found it, the place was clean and suited our needs. There were some walls that had been hastily repaired with duct tape, but we have seen much worse in our travels overall. It was about 5 minutes from the airport, and everyone actually got a bed this time.
Brian had the foresight to get some takeout beers from the bar, so we of course started drinking more beers and playing more Magic. He handily kicked my butt in Premodern (Terrageddon seems pretty bad against reanimator), so I threw in the towel on that and we pivoted to Old School. Happily for me, I was able to win most of the dozen old school games against the 2nd place champ, and regain some dignity on that end.